UPDATE ON PAYROLL TAX DEFFERMENT
The USPS has announced that it will

not

participate in the "Payroll Tax Holiday". This is good news for postal workers. Had the USPS participated, employees would see their paychecks increase as Social Security and Medicare taxes would not be withheld for the rest of 2020.
While that sounds great, the taxes would onl;y be deferred, and employees would have to begin repaying the taxes in 2021 which would have resulted in smaller paychecks in 2021.
RETRO-ACTIVE PAY QUESTIONS
There have been a lot of questions about the retro-active pay coming in your September 4th paycheck.
Did I get all of my retro-active pay? The answer is most likely "yes". Your adjustments can be viewed on liteblue (ePayroll). Each adjustment covers one pay period. HOWEVER, there will be one adjustment that covers 26 pay periods (a 1.3% increase from PP25/2018 through PP24/2019).

What about the Cost of Living Increase? The multi-pay period adjustment also includes a retro-active COLA of $624 that was effective August 31, 2019.

Why did they withhold so much in taxes? This is due to IRS guidelines. When your pay increases by a substantial amount, the IRS assumes you got a permanent increase and assess your taxes as if you were going to get that much money all the time. So, basically you are overtaxed. You will get that money back when you file your taxes next year.
The APWU is aware of approximately 2,000 employees who did not receive their retro-active pay. Most of these situations involve employees in higher level details , or employees with saved grade.

If anyone has questions, we will review your adjustments with you, but you will need to bring in printouts from liteblue,
and your paystubs cover PP25 2018 through PP08 2020.
The APWU has announced two new agreements affecting Annual Leave. These, one time only, MOUs increase the amount of Annual Leave that can be carried into 2021 and also the amount of leave that can be exchanged, or "sold back", for cash.
| | | |
| --- | --- | --- |
| Program | Old Limit | New Limit for 2021 |
| A/L Carryover | 440 hrs | 520 hrs |
| A/L Exchange | Up to 40 hrs | Up to 80 hrs |
click
HERE
to read the MOUs
WFMZ Channel 69: Some USPS letter-sorting machines being removed

Story by Holly Harrar,
Reporter / WFMZ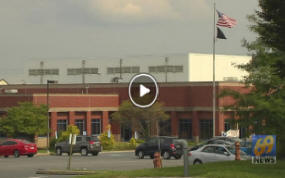 The Lehigh Valley is just one of the places in the country where letter-sorting machines are being removed from United States Postal Service facilities. A union representative in the Valley says removing the machines, along with other recent USPS directives such as cutting overtime, will slow down delivery times... Click image for story & video
Lehigh Valley Clerk Vacancy Notice: Manual Posting

Use link (right) to see jobs open for bid. Take note of closing date!
August 2020 eReassign and PTF/PSE Canvassing opportunities posted
Use links (right) to see offerings. Take note of closing dates!
Families First Coronavirus Response Act
The APWU and USPS have received confirmation that the provisions of the Families First Response Act does apply to postal workers. The Act provides additional paid leave for eligibile employees meeting the required criteria. Click the links below to find out more information about the FFRA.
Coronavirus Information Available on National Website
The APWU
has created a page on the National website with current information about the ongoing coronavirus situation. The page contains Service Talks, recommendations from the CDC, fact sheets, and other information. The page will be updated as more information is released.

See the National APWU Coronovirus page HERE


RMD CALL OFF
877-477-3273
TTY 866-833-8777

LV P&DC JOB POSTING
Job Posting
Must Bid Manually
closes

eREASSIGN POSTING
October


closes 10/21

Full Time
Part Time
PTF / PSE CANVASSING
CENTRAL PA DISTRICT


closes 10/07/20




NORTHERN NJ DISTRICT


Augusta
closes 10/03/20
-

-----------------


Edison NJ Cust Care Center


closes 10/03/20

SOUTHERN NJ DISTRICT

PHILADELPHIA DISTRICT

DOWNLOADS

OFFICER MAILBOX