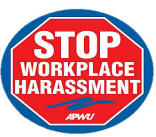 APWU Workplace Enviornment Surveys: Did You Complete Yours?
Postal workers, like all workers, deserve a job where we can show up, safely do our work, and clock out knowing that we put in a good day's work. But a vicious cycle of toxic work culture and short staffing is hurting postal workers and the communities we serve. We are speaking up together to demand dignity and respect from postal management so that we can end the short-staffing crisis, stop toxic management practices, and keep delivering a strong public Postal Service.
How can get involved?
Net-to-Bank (Direct Deposit) & Allotments Available on Liteblue / PostalEase
Charlie Cash, APWU Director of Industrial Relations, reports that access to Net-to-Bank and allotments is once again available on liteblue. Both features were locked as a result of the hacking scams going around in late 2022. The USPS has re-opened these options for a short time in January 2023, but quickly closed them again as there were still concerns about security. Employee should now have full access to make changes to their allotments or direct deposit.

eOPF access blocked - Employees Can Request Hard Copies
The USPS has blocked access to employee personell folders (eOPF) on liteblue due to concerns about security. The documents in an employees OPF contain sensitive information (i.e. social security numbers, former addresses, maiden names, date of birth, high school attended, etc...) Some of this information is the kind used for security questions to reset passwords for online accounts.

The Postal Service has employed an Artifical Intelligence (AI) program to scour the eOPF documents of all employees. The AI program is redacting, and obscuring, sensitive information. However, the AI program cannot identify hand-written information. As a result, the USPS must review the eOPF for every employee and manually redact any information the AI program may have missed. The USPS indicates it may take six months, or more, to complete this process. Until that time, the eOPF feature will be unavailable.
The USPS has indictaed that employee may request printed copies of their eOPF, at no charge, by contacting their district office: From the USPS "Employees may request a copy of their eOPFs in person or in writing to their district Human Resource Office. If the request is made in writing, they will be requested to provide proof of identity. No charges will be assessed of active employees for requested copies of hard copies of their eOPFs while the eOPF system remains unavailable due to security upgrades." The Postal Service has provided the following contact information for eOPF requests.
District
Contact
email
Phone
Address
PA-1
Lori Price
lori.a.price@usps.gov
412-359-7687

1001 California Ave




Pittsburgh, PA 15290-9998

DE-PA2
Julie Campbell
julie.campbell@usps.gov
215-863-5034

3190 S 70th St




Philadelphia, PA 19053-9994
IMPORTANT INFORMATION ON LITEBLUE SCAMS!!
APWU members are warned of two scams that have been occuring involving liteblue. The first involves scammers that call employees and claim to be Postal Inpectors. The inform the employee that their liteblue access has been locked and, in order to unlock it, the employee needs to verify their identify by providing the employee ID number and liteblue password. If the scammers get the info, they log on to the employee's account and change thjeir direct deposit information to send their paycheck to another bank account.
The second scam affects people who use Google searches to log on to liteblue. When they do a Google search for liteblue, some of the results that come up lead to fake liteblue sites. The scammers hope you input your information so they can steal it.
More detailed information is on the APWU website. Read it HERE
We have completed negotaitions and signed-off on the 2021 - 2024 Maintenance Craft Local Memoiradum of Understanding for the Lehigh Valley P&DC. We are in the process of having new LMOU books printed for every Maintenance Craft member at the plant. Until they are ready, we have posted a copy of the new LMOU HERE. Feel free to look it over and ask any questions you may have.
We are also planning to set up a number of Zoom meetings, with maintenance craft employees, to go over the changes int he agreement. Keep an eye on the bulletin board for dates / times of meeting
PTF / PSE CANVASSING MOVES ONLINE
Effective February 01, 2022, the USPS will be moving all PTF/PSE Canvassing bids online as part of eReassign on litbelue. Both the APWU and USPS realized there were problems with the current canvassing processes because some offices failed (refused?) to share the printed canvassing notices with their employees. This resulted in many PTFs missing out on the opportunity to change offices, and PSEs were denied the opportunity to convert to a career position.
This new, digital, process will remove that obstacle and grant all employees equal opportunities to bid. Postmasters in all offices have been instructed to give a service talk and post notices about this new process. In anticipation of the fact that some will "forget" to do it, you can view the posting HERE.
PRE-PRINT COPY OF NEW CONTRACT
The APWU has released a pre-print copy of the tentative agreement. This is a draft version which is pending proofreading and final editing before being printed and sent out to all members for the ratification vote. You can get a head start on preparing for the vote if you want to review the document HERE
COVID-19 INFORMATION & RESOURCES PAGE ADDED
With COVID surging across the District and the country, we have created a separate page for COVID related resources, information, and forms. This information includes:
Information about filing and OWCP claim when you are out of work due to COVID

Step-by-step instructions for filing a claim using the web-based e-Comp site

Links to carious documents, tutorials, Memorandums of Understanding, and other COVID stuff
Check out the COVID-19 page now.
| | |
| --- | --- |
| JANUARY 09, 2022 | FEBRUARY 06, 2022 |
| APRIL 10, 2022 | MAY 15, 2022 |
| SEPTEMBER 11, 2022 | NOVEMBER 06, 2022 |
The Local will also be hosting
Area Informational Meetings in:

March 2022

- (Date / Location TBD)

June 2022

- (Date / Location TBD)

October 25, 2022

- Stroudsburg


RMD CALL OFF
877-477-3273
TTY 866-833-8777
USPS EMERGENCY HOTLINE


888-363-7462

LV P&DC JOB POSTING
MANUAL POSTING
PTF / PSE Canvassing
PTF/PSE Canvassing
is available on liteblue
1st - 10th &
15th - 25th each month

DOWNLOADS

OFFICER MAILBOX